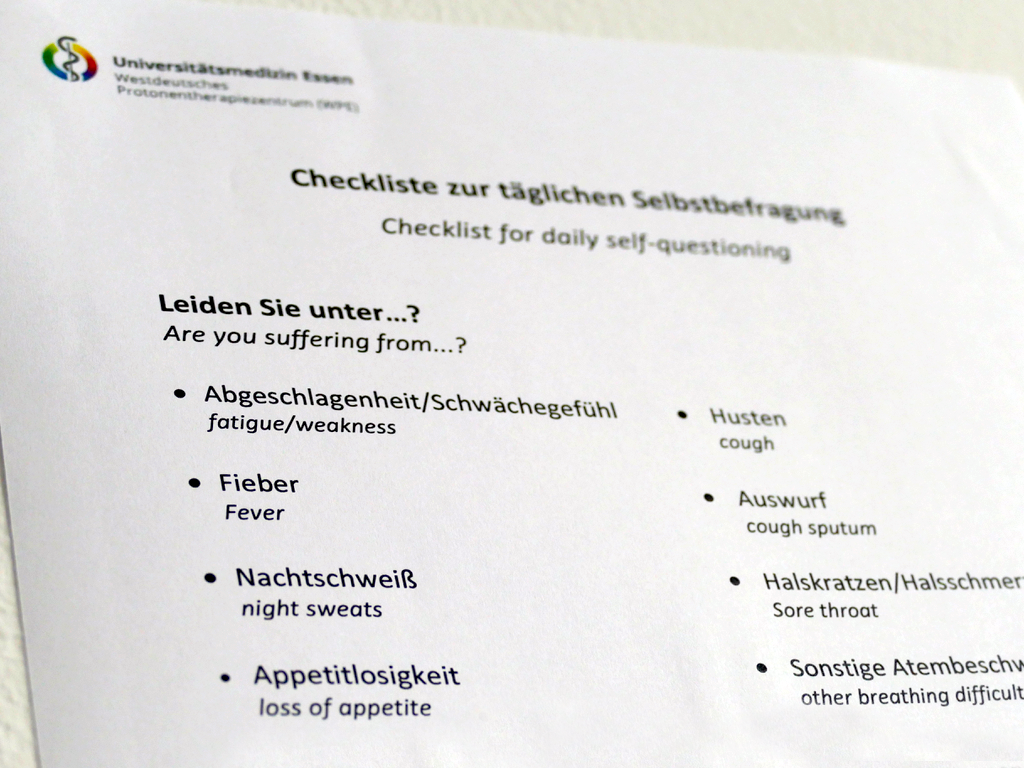 Maximum safety for patients and employees
The corona pandemic has also put health care in the Clinic for Particle Therapy at the WPE of the University Medicine Essen to the test: In recent weeks, a large number of actions have been taken to adapt or optimise internal processes. Petra Reinders is one of three hygiene officers at the WPE and is also directly involved in patient care as a radiographer. In this interview, she reports on the coordination of hygiene guidelines and the changed processes at the West German Proton Therapy Center over the last few months. The overall objective of the new guidelines: The greatest possible safety for patients and employees.
Mrs. Reinders, the University Medicine Essen (UME) generally has very high hygiene standards, which have now been adapted once again to the changed conditions. Could these stricter rules of the UME be adopted one-to-one for the WPE?
Of course, very strict hygiene regulations apply generally in our Centre as well. In oncology, this is particularly true because some patients can be immunosuppressed. However, the new or additional regulations developed by University Medicine Essen due to the corona pandemic often refer to inpatient or short-term outpatient care and therefore did not always fit our situation exactly. Moreover, we have significantly more international patients than in other areas, which also required special consideration in our measures.
What does that mean exactly?
In the WPE, almost all patients are treated as outpatients – but with many treatments over a period of about six weeks plus the planning period in advance of about two weeks. Inpatient care is only provided in exceptional cases or if chemotherapy is also planned. In such cases, patients are admitted to the Children's Department or the West German Tumour Centre of the UME. In contrast to inpatient treatment, our patients have regular contact with the outside world during their therapy, which means that there is the possibility of a new infection every day. In the course of the pandemic we had to react to this situation also with regard to our hygiene measures. To protect the people who are treated here, but also our employees. After all, staff absences could also mean that we might no longer be able to provide adequate care for our patients.
Did any treatment take place at all in the past months?
Patient operations have been reduced somewhat since the corona eruption, but were carried out under strict conditions throughout. In individual cases, treatment procedures have been adapted and are still regularly checked. However, no patient who urgently needed treatment was rejected. There were restrictions, particularly in the admission of patients from other countries due to travel restrictions and quarantine regulations. There were significantly fewer changes among German patients.
Are there agreements with the University Medicine Essen regarding the hygiene arrangements at the WPE?
In addition to the consideration of the UME's general specifications on hygiene, the UME's quality management team has also carried out inspections to check whether all specifications have been taken into account. Special arrangements and questions were regularly discussed with the central hospital hygiene department of UME. In addition, all measures were and are of course also discussed internally and coordinated on an interdisciplinary basis. For this purpose, we use our weekly steering meetings so that all information and regulations could be distributed and communicated directly to all divisions. And of course the director of the clinic for particle therapy and medical director of the WPE, Prof. Dr. Beate Timmermann, as well as the administration are also involved in this. And by the way, I am also supported by other hygiene officers, from the outpatient clinic and from the medical team.
At WPE, not only patients from Germany are treated, but also from abroad…
That is correct. At the beginning in March, nobody was allowed to enter. Afterwards it was possible if medically necessary, but then these patients and their relatives had to be quarantined for two weeks. Not an easy time for the families and some organisational effort. During this time, we did the planning under isolation conditions, but the therapy only started afterwards. It was challenging to ensure transport, accommodation and food, for example. After all, there is a constantly updated list from the RKI, which defines the countries at risk. Now only patients from these countries have to be quarantined. This is a great relief, still exhausting for patients from countries that are still affected.
Are patients tested for coronavirus?
So far, tests are only scheduled when symptoms are present. Since a test result only reflects the actual state, it had to be our goal to maintain high hygiene and quality standards regardless of test results. Nevertheless, due to the loosening of regulations in Germany and around the world, we have now introduced the requirement that foreign patients present a test. Regardless of this and precisely because we cannot always keep track of developments in the country of origin or home town, we carry out daily clinical checks, i.e. the medical team checks the patient's state of health on a daily basis. In addition, we regularly react to changes in the guidelines by the policy with necessary adjustments.
What other precautions have been taken?
In principle, it is no longer possible to enter the WPE without prior consultation or unannounced. In addition, all patients are questioned by telephone about their general condition and travel activities before their first visit, receive information on site about hygiene and distance rules and fill out a health questionnaire once a week from their arrival. All employees and patients also always wear at least a mouth and nose protector.
Has the number of patients or visitors been limited?
Unexpected visitors and accompanying persons are no longer allowed; or the later only if it is urgently necessary. In the case of children, an adult is usually allowed to accompany them. Over the course of the day, we currently treat about 70 patients, plus about 40 accompanying persons. In the past, whole families with siblings often came to WPE. Now it has become a bit quieter. We try to shorten waiting times in the centre by scheduling them as precisely as possible. We have also distributed the waiting areas more widely than before and separate children and adults here. Of course, we also have isolation areas available for any suspicious or infectious cases.
Do the new guidelines also have an impact on treatment?
In individual cases adapted treatment concepts are possible. For example, within the framework of the general standards, the respective dose per session can be moderately increased, which leads to a shorter overall therapy duration. Patients are therefore back home more quickly. However, we deviate only very little from our previous standards.
What happens in case of suspicion or an infected patient? Is the patient treated anyway?
If a patient is suspected of being infected with COVID-19, he will be isolated immediately. The treating physician also informs the public health department and the central emergency room (ZNA-Nord) here at the University Hospital. The proton therapy itself is continued under strict safety precautions. For this purpose, we only appoint staff who have been trained to care for Covid-19 patients and are equipped with complete protective clothing – respiratory mask, safety goggles, disposable gloves and protective gowns. In addition, the irradiation only takes place at the end of the day's program and always in the same gantry. There is no interruption of the therapy itself – unless there are also severe symptoms that make treatment impossible.
How do you see yourself prepared for a possible "second wave"?
As we have kept our requirements and standards very high throughout the years and always adapt them to current developments, we hope that we will not feel too strong an impact. There has never been any relaxation of hygiene measures at WPE. Patients, relatives and employees must continue to adapt to the high requirements, because only by working together can we prevent the spread of infection among patients and employees at WPE. We also continue to ask for great caution within the team in order to minimize risks. All summed up, it will certainly remain a very challenging and at the same time exciting phase for me as hygiene officer at WPE!