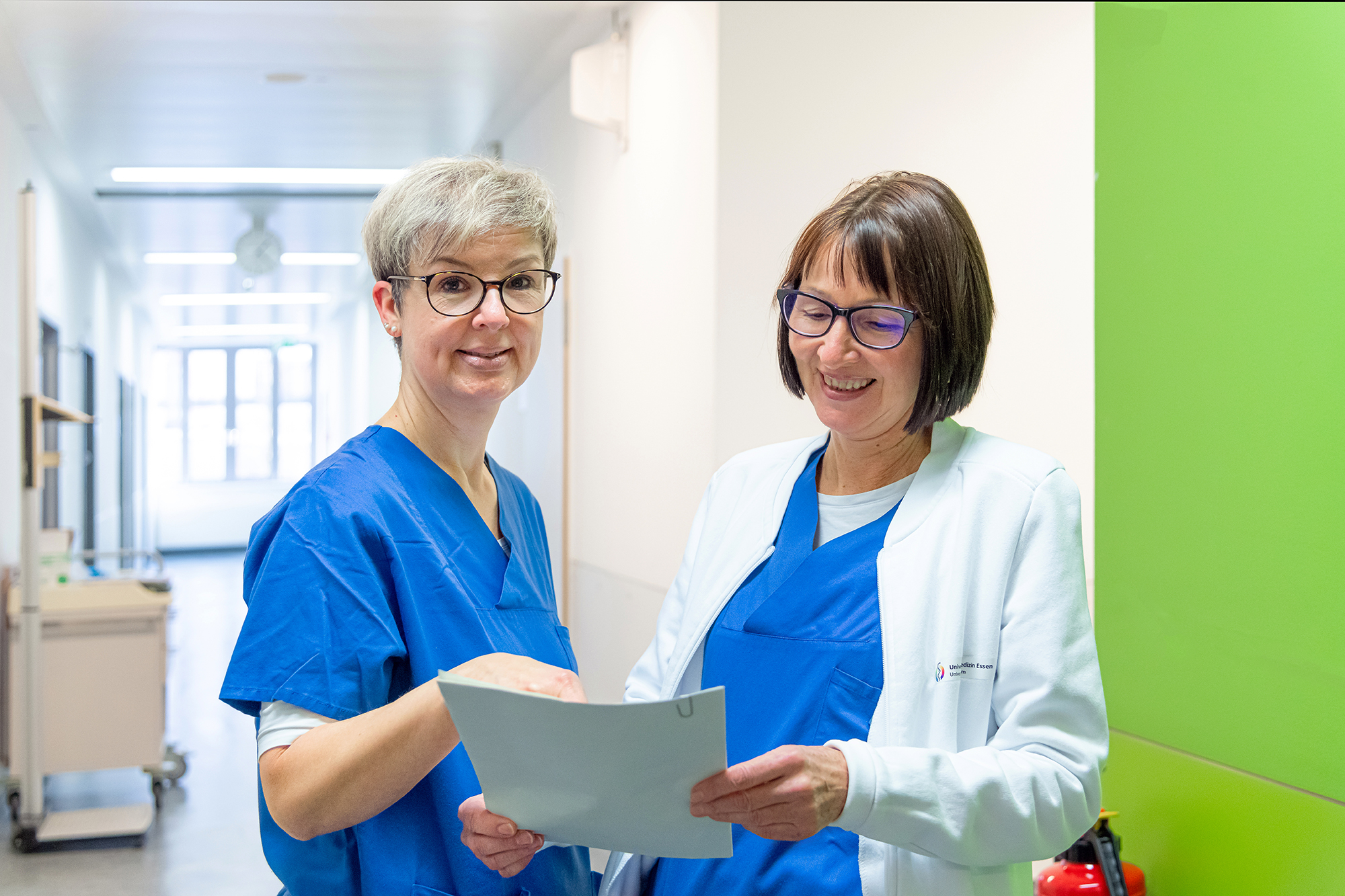 Outpatient Nursing Care Unit
Background information
Proton therapy essentially has little in the way of side effects. However, the entire scenario is stressful for the body, especially if accompanied by chemotherapy. Added to this is the fact that proton therapy is administered in an outpatient setting, generally without any inpatient care.
At WPE, the focus of our oncological care in managing typical side effects is built around the individual needs and responses of each radiotherapy patient.
Depending on part of the body being treated, the following side effects may occur:
Local skin changes
Changes in the mucous membranes
Nausea and possible vomiting (mainly in combination with systemic chemotherapy)
Loss of appetite, and resultant weight loss
All signs of chronic fatigue / exhaustion and listlessness
In consultation with case doctors, the WPE Outpatient Nursing Care Unit takes professional preventive action to avoid or reduce these typical side effects of radiotherapy. In this way, accompanying symptoms can be detected early on, and any necessary professional treatment arranged.
Staff at the Outpatient Nursing Care Unit are certified nurses with different types of qualification: trained palliative care nurses, trained anaesthetic and intensive care nurses, and trained oncology nurses.
Nursing rounds
The Outpatient Nursing Care Unit is an integral part of general outpatient facilities at WPE. At the initial consultation, each patient is given an appointment to assess their status before treatment commences. Weekly appointments are scheduled during treatment. Extra appointments are always possible, depending on the patient's individual needs. Every member of staff in the outpatient team can be approached at any time.
The nursing rounds involve providing information on radiation-induced side effects, consultation and initiation of supportive measures as well as the recording and documentation of vital statistics, skin condition, nutritional state and general state of health and wellbeing.
Nursing care specialisms
This includes taking details of pulse, blood pressure, height and weight.
The condition of the skin is recorded before proton therapy begins. The area receiving radiation treatment is inspected at least once per week, and any skin reactions assessed as per RTOG guidelines (Radiation Therapy Oncology Group, 5 stages) and changes recorded over time. The consultation refers both to general behavioural measures for body hygiene and care, and to special skin care in the event of anomalies.
Nutritional status is recorded by measuring body weight and calculating BMI. An important factor is the patient's (or parents') perception of appetite.
For children with feeding tubes, the skin area around the entry point is inspected, and the patient's condition and care documented.
Using the WHO scale for adults and the Lansky scale for children, the patient or his/her parents or family members assess their mobility and way their everyday life is organised.
With children, top-to-toe photos are taken at the beginning of therapy and at each follow-up appointment in order to observe the course of development and growth.
Questions concerning sleep disorders, fatigue and listlessness are also asked. A distinction must be made between chronic fatigue/exhaustion and temporary fatigue related to radiotherapy.
Appointments
All patients are assigned appointments via the appointments office in order to plan appointments for nursing procedures. These generally take place between 08:00 and 16:00 hrs.
Leisure activities
In addition to physical care, the general situation of our patients is also close to our hearts. Here, the Outpatient Nursing Care Unit makes every effort to ensure our patients' stays at the WPE are as pleasant as possible before, during and after the treatment period. As many of our patients come from outside the area, choosing to live in and around Essen during their outpatient treatment, our outpatient team is also happy to give tips for shopping (supermarket, pharmacy, etc.), leisure activities and regional excursion destinations. The heartland of the Ruhr conurbation has something for everyone to discover.
Our reception desk has travel guides for the Ruhr area which are available in German and English and can be borrowed at any time. Flyers of various attractions are displayed on the shelves and displays on the ground floor. If you have specific questions, feel free to ask our team.
Contact us
The case management of WPE will assist you with questions you may have.
---
---